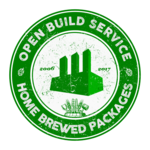 ---
a project by k0da
Build Service needs an openid. Imagine following case:
Updated over 2 years ago. 7 hacker ♥️.
a project by dmuhamedagic
In case any of the source files changed, openSUSE Build Service rebuilds the dependent packages regardless of whether that particular modification affects the dependency. This makes our resources footprint bigger (and the electrical power bills higher). It also affects users, because every new package build causes the package manager to include that package in the next update thus consuming network bandwidth and resources of users' computers.
Current OBS controls for package rebuild triggers
Updated over 2 years ago. 3 hacker ♥️.
an invention by lslezak
Introduction
OBS can build not only build traditional RPM packages, but it can even build appliances or installation ISO images.
Updated over 2 years ago. 2 hacker ♥️.
an invention by lslezak
Description
Travis provides nice integration with GitHub, it can automatically run tests for every commit or every pull request.
Updated over 2 years ago. 1 hackers ♥️.
a record by sleep_walker
Sometimes we get from Labs team patch from kernel-source.git. It is nice as it contains not only patch against expended kernel tree, but also changes series.conf and changes file and identical patch is in GIT. Unfortunately it always leads to conflicts, tarballs need to be extracted and then repacked so most of the job is done manually. I'd like to create tool which would help apply such patch automatically whenever it is possible.
Updated over 2 years ago. 1 hackers ♥️. Has no hacker: grab it!
an invention by -miska-
As OBS can install various distributions, it should be in theory possible to abuse this functionality to create distribution independent way to create rootfs tarball. Done: https://github.com/openSUSE/obs-build/pull/166
Updated over 2 years ago. 1 hackers ♥️.
a project by algraf
Some customers are still stuck in a world of 32bit. On ARM64, we have two options for those poor folks: 1) Run applications in the legacy ARMv7 instruction set
Updated over 2 years ago. 1 hackers ♥️.
a project by a_faerber
While in the past MIPS boards were either low-end PIC32 or found in routers running OpenWRT at most, Imagination themselves have recently released the Creator CI20 board (Ingenic, MIPS32) running Debian. And the Shield Pro (previously iGuardian) kickstarter project (Octeon-III, MIPS64) promises to become a playground for testing KVM hardware virtualization. Porting openSUSE to MIPS will involve setting up an OBS instance linked to Factory (update: done) and cross-compiling a set of packages for an initial bootstrap (update: in progress). Maybe this can be scripted to some degree, as there will be some overlap with the ARM ILP32 port project.
Updated over 2 years ago. 6 hacker ♥️.
an invention by coolo
devel:languages:perl has 2662 packages, but many of them are outdated because it's just a fight no man can win to update them. So we update them whenver we hit a problem. But this is evil: I count 2662 packages in devel:languages:perl and 1188 of them are outdated. So I'll write a script... just as we did with gems
Updated over 2 years ago. 1 hackers ♥️.
an invention by cbosdonnat
virt-builder main repository contains quite a few distro images, but no opensuse one. The goal of this project is to make OBS able to create a virt-builder repository out of a few kiwi packages. Ideally this would later be used to provide some official opensuse images for virt-builder.
Updated over 4 years ago. No love.