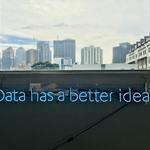 ---
a project by mvarlese
The idea is to explore the technologies and the various components to realize some AI to predict pitfalls in source code which can potentially generate run-time misbehaviours. The potential area where this idea could have positive implications are:
Updated over 2 years ago. 5 hacker ♥️. 4 followers.
an invention by afesta
Project here: https://confluence.suse.com/display/AAI/HackWeek19 Will keep working out of HackWeek as "best effort" personal project to make it evolve and keep learning.
Updated 10 months ago. 6 hacker ♥️. 5 followers.
a project by mvarlese
Project Description
Phoeβe (/ˈfiːbi/) wants to add basic artificial intelligence capabilities to the Linux OS.
Updated 10 months ago. 8 hacker ♥️. 7 followers.
a project by stefannica
Project Description
So you have an idea for a machine learning project for HackWeek. Have you thought about what tools you'll be using? Choosing the right set of machine learning tools and making them work together can be time consuming, not to mention the unavoidable learning curve. Perhaps you could use some help with that.
Updated 10 months ago. 4 hacker ♥️. 5 followers.