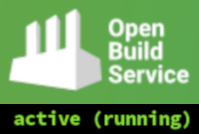 Improve OBS service scripts
an invention by
enavarro_suse
For every instance of OBS, each time the obs-api package is updated the obsapidelayed service is reloaded. This takes more time than is expected.
Task to be done are:
Be sure the status returned by systemctl status obsapidelayed.service doesn't return an active (running) state whe some of the children are dead.
Migrate SysV service configuration to Systemd, and get rid of SysV.
This project is part of:
Hack Week 17
Similar Projects
Project Description
Improve error handlin...
---
[comment]: # (Please use the project descriptio...
---
Project Description
The goals:
1) When...
---